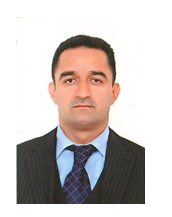 Asst. Prof. Dr Salah Tofik Balaky
Head of Medical Microbiology Department
Welcome Speech 
In the Name of Allah
It is my great pleasure and honor on behalf of entire staff of the department, to welcome you all to Medical Microbiology departmental page, which was established in 2012-2013 within the college of Health Sciences, Hawler Medical University.
Students in our department study the world of organisms that are too small to be seen with the naked eye. Some of these microorganisms are infectious agents to humans, animals, or plants. Many of these microorganisms, however, carry out important functions in their niches that are essential for all life on earth. Microbiologists study the interaction of microorganisms with people and how they affect our lives, as well as the roles these organisms play in the environment. Graduate students in this department can work in hospitals, universities, medical schools, government laboratories, and almost every industry, specializing in a variety of areas, from diagnostic laboratories to the space industry.
As you browse our site you will have the opportunity to discover the quality and diversity of our teaching program and quality. You will find out about our degree program, faculty, staff, students, research opportunities, seminar series, and other information of interest. We currently have more than 200 undergraduate students in the department.
Mission
The mission of the dept. of Medical Microbiology is:
·         To provide comprehensive scientific instruction to students, conduct novel and meaningful research, and offer consultation in microbiology and immunology as they relate to human disease.
·         To produce graduates with a cutting-edge knowledge, laboratory practice and professional healthcare skills that will be able to work professionally in the clinical laboratory.
·         To provide a comprehensive theoretical knowledge of medical microbiology including the spread of micro-organisms, disease causation, diagnosis and/or treatment of pathogens of major significance to public health and advanced practical training in this diverse field. The increasing incidence of microbial infections worldwide is being compounded by the rapid evolution of drug-resistant variants and opportunistic infections by other organisms.
Vision
·         Microbes play an important role in human infection diseases, it is important to have the Dept. of Medical Microbiology at the College of Health Sciences to specialize students in examining various types of microbes, their modes of transmission, prevention and treatment of infectious diseases.
Major Goals: 
·         The undergraduate program in Medical Microbiology provides a basic theoretical and technical study of the structure, molecular biology, pathogenesis, epidemiology, and laboratory identification of the various microorganisms that cause human disease, as well as the host immune response to them.
·         Graduates have a variety of career options from which to choose. University and government laboratories, research institutes, hospitals, and the pharmaceutical and biotechnology industries are among the list of employers looking for qualified microbiologists.
What Is Medical Microbiology?
Medical microbiology is the study of the ways in which microbes, including bacteria, fungi and viruses, affect our health and this is the major focus of the BSc Medical Microbiology program. However, a broader knowledge of microbiology and the biosciences in general is essential for a full understanding of medical microbiology. Undergraduate students will learn about a range of disciplines in the field of medical microbiology:
·         Medical Immunology
·         Cellular & Molecular Biology
·         Medical Bacteriology
·         Medical Mycology
·         Clinical Virology
·         Molecular Diagnostics
·         Pathology
·         Medical Parasitology
·         Clinical Biochemistry
·         Biomedical Laboratory sciences
·         Bioinformatics and Biotechnology
·         Clinical epidemiology of infectious diseases
Staff of Department: